I am the queen of procrastination. Usually this lends itself to starting new sewing projects when I should be doing something else (mostly cleaning), but occasionally it leads to a stray unfinished objects or indecision.
So, in an attempt to turn these into, well, finished objects, I am publicly declaring the following mid-year sewing resolutions in the hope that the fear of being shamed in the blogosphere will make me sort it out.
Resolution no. 1 - finish my baby quilt
I made this in a class (well, 3 classes) at
The Make Lounge
. It's a really cute lap/cot quilt (which will be a lap quilt, given the absence of a cot in our flat!), and enjoyed making it so much I would dearly love to do some more quilting. I'm planning on making a quilt for our bed at some point, but before I do that I really should finish this one.
The classes were well over a year ago, and I finished tying in the loose ends around November. All that's left to do is bind the edges.
Resolution no. 2 - find something to do with these fabrics
A recent acquisition, I couldn't resist buying these when I spotted them in the Oxfam shop on Edgeware Road - £4.99 for around 3.5m each! Now I just have to figure out what to do with them. They both have quite a large pattern, so wouldn't work for make up bags, but might work for tote bags. Or I could use them for some clothing - they're quite thick cotton, so probably not suitable for tops, but could make interesting skirts.
Oh you pretty things
Resolution no.3 - finish dresses
(and rediscover my clothes making mojo)
These dresses have been hanging on my wardrobe for well over a year now. I really should finish them.
V1192
V8554
I started the
V1192
in the hope that it would be ready for my cousin's wedding. In August. Last year.
It was. But despite making a muslin, it doesn't quite fit right which led to last minute panic buying. I think it just needs a bit of tweaking somewhere around the shoulders, which hopefully will sort out that sagging bit at the top (although it does look a lot shorter than I remember - might have to try to let the hem down a bit).
I started the
V8554
even earlier than that. The top half fits (I think), but there's way too much fabric at the bottom. It's gathered around the waistband, but it puffs out resembling a limp tutu. Not a good, or even flattering, look. So I need to unpick the skirt, cut off some of the fabric at the seams, gather it again, sew it back onto the waistband and add a zip. Easy!
I seem to be stuck at a bit of an impasse with dressmaking. Despite buying the
pendrell blouse
and
crepe dress
patterns, I'm yet to even think about making muslins, let alone pick out proper fabric for the finished makes. I'm not certain it's due to lack of time - probably more not wanting to solve more fitting problems. So I hope that finishing these two dresses will push me to want to start on these new patterns.
And the grey patterned fabric you can just see in those pictures, leads me to...
Resolution no. 4 - making blinds and curtains
Me and the boy spent a loooooong time trying to pick some fabric for curtains in our bedroom. This one is probably our favourite so far, but it is quite dark. I'm planning on also making some roman blinds in plain white, which should lighten it up a bit, but the paint we want to use is quite a dark grey (although lovely), so we're a bit concerned that it'll be too much.

I do like the Sanderson Dandelion Clock fabric though - not sure I can justify the extra expense of this fabric, but I might try anyway!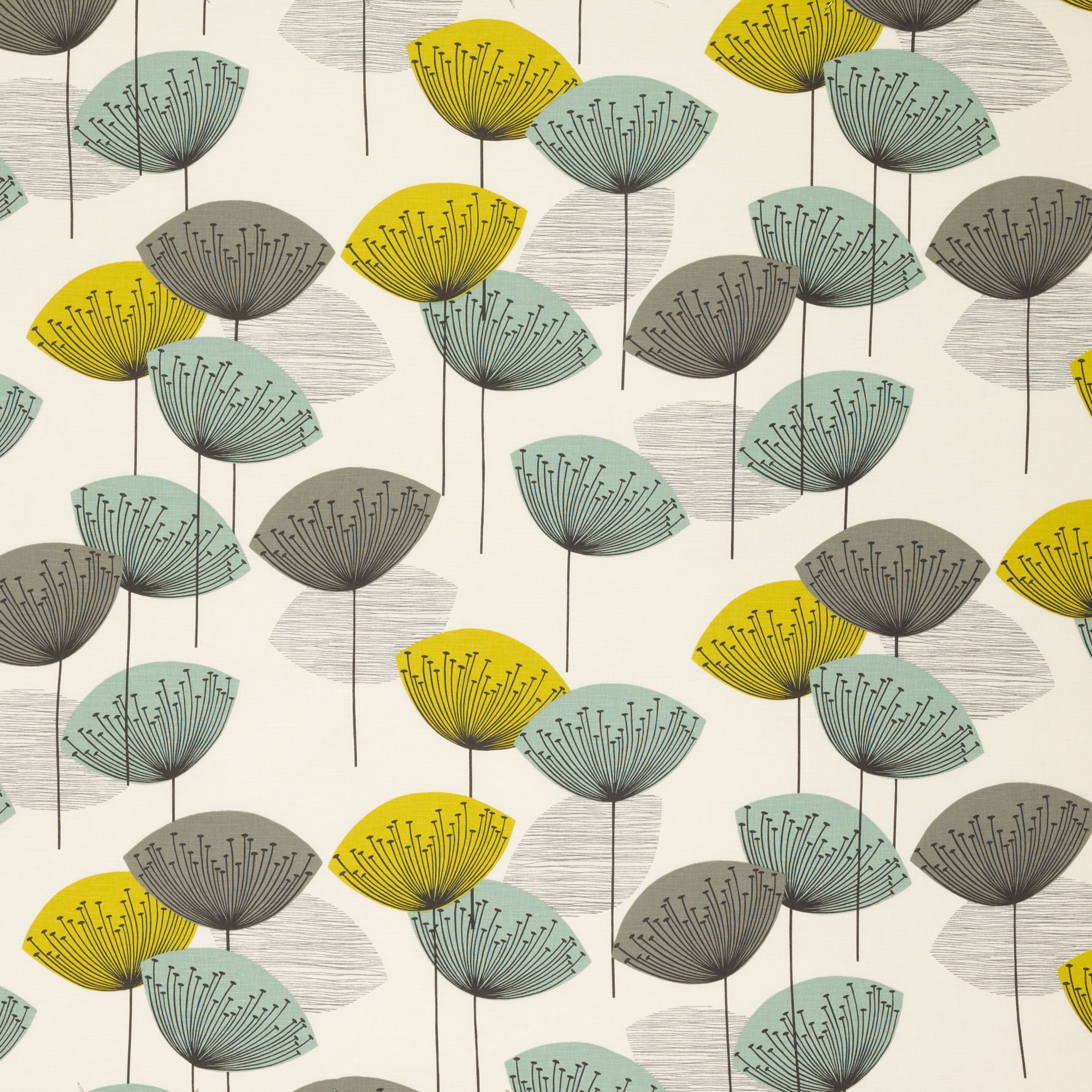 Despite listing these last, they're probably the one's I'll have to do first. We're having our windows repaired in a couple of weeks, and I think we'll have to take down the existing blinds so I better get a wriggle on.
In the immortal words of The Doors - the time to hesitate is through.